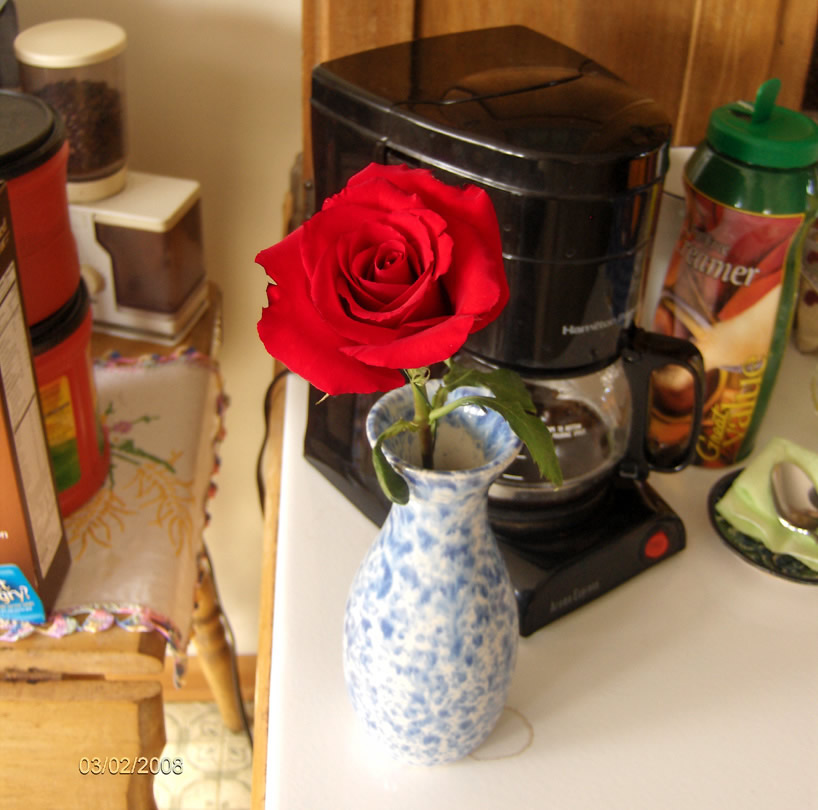 We drove away and left Betty buried on a hill in Slaughters, KY on the first day of March with the promise of spring in the air, but the ground still bare and stark. I so much wanted to take pictures but I didn't dare be inappropriate or intrude on the family's grief. I took some outside pictures of the old Slaughters Christian Church where the funeral service was held. Actually I've often wanted to take pictures in Kentucky - Betty and Hal have such a lovely place. The surrounding countryside is so quaint and picturesque with its hills and "hollers" and back country roads that wind up steep hills through narrow tunnels made of trees. We'd often sit on the front porch of Hal's home place where he'd retired and built a new house after working as a professor from Purdue and enjoy just looking out at the fields and tree lined hills across the way, and watching the birds in the stately trees that lined the long driveway and admiring the flowers and the garden. Hal and Betty named their place Morning Song.

I guess those pictures will have to remain as pictures in my mind and in my heart to be painted with words and perhaps incorporated into my dreamscapes … Like the images from the day we put Betty to rest. Granddaughter Amber standing tall and slender on that hillside, the wind sifting through her long blond hair as she held a red rose from one of the graveside flower arrangements against her dark plaid winter coat, her slightly freckled face and grey blue eyes surveying the grave sites of her ancestors with perhaps a newfound interest in her roots. Her mother Becky standing along side explaining who was who. Becky with her short dark curly hair and mischievous brown eyes was the one everyone called "Grandma Bonnie" at the viewing because she so reminded anyone who had known Bonnie of her.

Paula holding a red rose against her neat black coat, the daughter who looked so much like Betty, today her straight black hair and intense brown eyes contrasting against the pale winter sky. She had stood watch with Jenny and Hal the last few days of Betty's life. Becky and Mark were in Pennsylvania with Amber and her husband.

Daughter-in-law Penny, son Brian's wife, an engaging young woman and mother with brown eyes that dance, and their two small boys, Colden and Hal Robert (Beau), the youngest grandchildren, had gathered roses from the graveside flower arrangements and handed one to each of us. These added sparks of color to the brown and gray of winter as people scattered to visit gravesites of family long passed on.

The expression of grief that always seemed to return to youngest son Brian's face in the inbetween moments of chasing after toddlers and joking with family and friends – he had made frequent trips back and forth from South Bend, Indiana these past few months and had been fighting off the same cold as Benny the last two weeks.

Jack's face, his eyes red from weeping – the oldest son and the first grandchild, who had come back and forth from South Carolina during the few months of Betty's illness - but still functioning with composure, humor, dignity, and grace. And Mary Ellen his tiny wife who was keeping her mother who was suffering from Alzheimers. I had worked with her mother many years ago at Duncan Meter. Jack and Mary Ellen had brought her along but left her at Hal and Betty's with the lady who came to clean their house.

All the men standing in front the old Slaughters church, gleaming white in the sunlight as we drove up - Jack, Brian, Benny, Tootsie, Mark, all dressed in solemn dark suits, there to direct the parking and to fit all the cars in a place not accustomed to such an attendance.

Donald Qualls girlfriend's dirge, the only song of the service, sung acapella straight out of 19th century Appalachia.

The wonderful country dinner at the church afterwards. Pecan pies and apple dumplings and chocolate cakes and banana pudding – ham and fried chicken and slaw and cornbread, corn from the garden and green beans …

Brother Gary Ashby's message about the pages of Betty's life - those we all were in, those yet to be written - Brother Gary always has a unique perspective in his sermons.

Amber's husband Brock, a seminary student in Pittsburg, who at the last minute was invited to speak and gave a thoughtful reflection and explanation of a passage in Ecclesiastes - the one that says that it is better to be in the house of mourning than in the house of mirth - the kind of foolish mirth that detaches itself from life ... whereas the house of mourning is a sort of reality check that touches our hearts and allows us to become better people.

Watching Hal Ray stand solitary beside Betty's casket graciously greeting and welcoming the long receiving line of neighbors and cousins and friends at the viewing, some from close by, some who had traveled distance - perhaps the professor's longest and saddest lecture. As people came in, he greeted us all by saying, "I'm hugging all the pretty women tonight," then told his friend Bob, "That includes you," and hugged him as well.

He told me he'd first seen Betty when he was in second grade. They were high school sweethearts, someone else commented they had probably never dated anybody else. Someone said he'd told them, "I had my eye on that girl for a long time."

The eulogies and tributes to Betty included, of course, her cooking – I believe it was Brother Gary who said, "That woman could take dirt and make it taste good."

She had welcomed me into her lovely home and accepted me and fed me well and hosted me so graciously so often over the last twenty-eight years - if it was an imposition, it never seemed like one. Betty was always ready and she made everything look easy.

Sister-in-law Betty Winstead rode down with Benny and me - her first trip to Kentucky to see the family after Paul died. Paul was the first, but not the oldest, of the Winstead siblings to go. Betty has gone through a long mourning period. She says she journals and is on her third journal of letters to Paul. She said in her very first letter she asked him, "Well, what's your baby brother Jerry Alvin like?" Jerry was born between Betty and Jenny but had only lived a few days. She said Paul often mentioned that he wondered what Jerry would have been like.

I remember Betty Roach when Paul died. Everyone met at our "new" old farmhouse. Betty and Hal changed in our study. We all stood in the receiving line with Betty Winstead. I remember Betty Roach standing by Hal, her trim and slender appearance in her "little black dress" and black pumps belying her 72 years, as she greeted folks from Dayton she probably hadn't seen in a while ... Hal told me last fall that they'd gotten married when she was seventeen and he eighteen, and in his mind, Betty was still seventeen.

And I remember sisters-in-law Betty and Jenni busily cleaning all the marks off my new glass top range.

I discovered that Paul's Betty wrote Betty Roach every week of her illness - she said she knew she could write but just couldn't trust herself to talk on the phone after losing Paul to the same illness in such a relatively short time. Betty Winstead kind of stayed away from the family for a while ... to get back on her feet I guess.

When we pulled into Jenny's on Friday afternoon, there she stood stirring a big pot of homemade soup and pressure-cooking some beef. Jenny told us she had had about three hours of sleep in three days. The hospice people had been telling them the end was near for a couple of weeks – a few hours, a day, perhaps through the night. Tuesday night they'd had to call them late to increase the pain medication. The hospice people told them then it would be a matter of hours. By then Hal Ray wanted someone by Betty's side holding her hand the whole time and wanted everyone to do it in shifts so they wouldn't wear out - he and Jenny and Paula were the ones who stood watch those last few days and Betty passed shortly after Brian arrived back down there.

The thoughtful and inclusive obituary obviously written with what Betty thought important in mind. No one was left out. No one. I think if Willie, their little dachshund had still been alive, he would have been listed too.

Betty lay in a hospital bed in the living room the last two weeks of her life and Jenny stood by her bedside practically the whole time.

It's been a rough winter all around - Kentucky has had two ice storms in the last three weeks. Tree branches were piled everywhere, barely clearing some of the narrow country roads. Betty and Hal were without power for four days - Betty too sick to go to a motel so they had to tough it out, Hal said. Jenny's son-in-law Mike brought them in a kerosene heater and whatever else they needed.

But perhaps I digress. Betty has been on my mind frequently for the last few weeks and she and her family will remain on it for some time to come. She passed 1:00 am on Thursday morning February 28, 2008. We got the call at 8:00 just as I was leaving for work. I went on in to work and did a few things and then turned around and came home - cleaned the house and got ready for the trip to Kentucky. The neat thing was that I'd been feeding birds outside my kitchen window this winter. A pesky cardinal and his mate were the ones who started it all - he kept attacking my kitchen window last spring so I put out food to distract him. But Friday I looked out and there were all kinds of birds including a tiny black-capped chickadee - oh, he was so cute. First one I've ever seen around these parts. Betty loved birds. I think I've always taken them as a sign - silly, but the rare visitor reminding me of Betty's spirit on the wing, free and spry once again.