This information about Firma came from my cousin Richard a few years ago ...
My wife, Marie L. Alward, her niece, was the sole heir to her estate when she died. Marie lived with "Aunt Firma" in Paris, Ill for a year before going to nursing school there and saw her frequently during that 3 year period.
Firma was the first in her family to graduate from high school which was in Kingman. Indiana. She was one of five girls and three boys. Her father was born in France and came to the US when he was ten. As an adult he was a coal miner and moved about Indiana where there were mines. Most of Firma's growing up years were in Fountain and Parke County. Living in small rural areas they experienced a great deal of prejudice, even to having a cross burned in their yard (KKK) because the community considered them foreigners and catholic . It was necessary for Firma to work to earn money to go to HS.
She married a barber shortly out of HS and lived much of their married life in and around Paris, Ill.
He had a drinking problem and had health problems which caused him to retire early and they spent some time in Ariz. She had always painted some in her spare time but begin to paint seriously out there. She was mainly self taught but was encouraged by other artists out there. They had only one child that died at birth. She was particularly close to Marie but enjoyed her other nieces and nephews also. Marie loved her dearly and frequently had trouble with her Mother who felt Firma and
Marie were closer than she and Marie. Marie died over 3 years ago.
Eventually they moved back to Fountain County to a small house in the country near two of her sisters. One was Jeanne's grandmother and the other was Marie's mother. Glen, Firma's husband died when he was in his early fifties and eventually Firma and both sisters (all widows) moved to Kingman.
Firma was very active in the Covered Bridge Artist group in Rockville, Indiana, Parke County till her death. She had a shop on State Road 47 outside Turkey Run State Park and exhibited her paintings many places around the community and was able to support herself through her painting. She had many customers from visitors to Turkey Run and particularly from Chicago and Illinois. She had a significant influence on my youngest daughter in particular who is an art teacher in Fort Wayne. They painted together and her style is similar. She influenced many others in her group and other members of the family. She was asked to give lessons but was much to modest to do anything but make an occasional suggestion. Many of her paintings were of covered bridges because that was where the market was. Sometime people would bring a snapshot and ask her to paint a picture like that which she would do. Of course she put her mark on it. My daughters favorite picture is of a bowl of fruit, another is of a vase of flowers. However by far the most of her paintings are of covered bridges and landscapes. She felt one of her highest honors was having a picture hanging in Senator Birch Bayh's office in Washington.
Two of my nieces saw that two of her paintings were for sale on ebay and their husbands purchased them as Christmas presents this year which made their wives very happy.
Firma always sold paintings at the Covered Bridge Festival in Parke County. The Group had a shop on the Court House Square. I have been enjoying my memories of times gone bye of my wonderful wife and her aunt.
Sincerely,
Richard V. Nickell, Retired
7913 Pebble Creek Place
Fort Wayne, Indiana 46835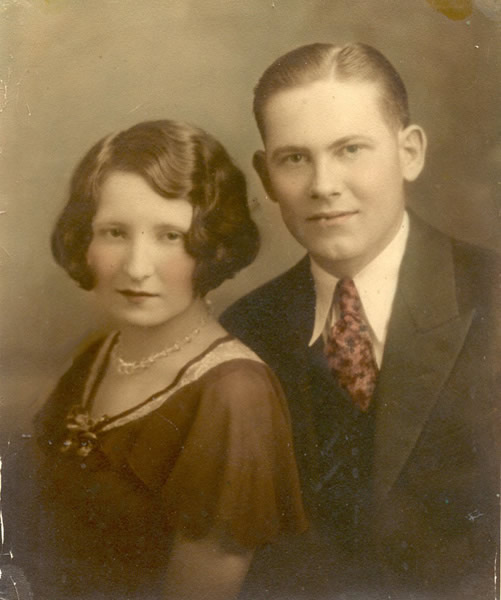 Firma and Glen Duchene Phillips