I received the following email and photographs from Kyle Johnson who has graciously allowed me to share them with you.
Hey, I'm Kyle. So I was searching google for David Grossblatt because I'm here in Washington, DC helping my great aunt clean out her house and in the basement I came across a large painting sort of hidden in the corner. So I took it out, looked at it and say Grossblatt signed on the front and on the back it read David Grossblatt NY, NY. So here I am, searching google when i see that you have a blog about him and some of his finds and I thought I'd let you know I found one. Story behind it goes my great uncle's friend knew David, who at the time was trying to go to Paris. Before Grossblatt left, he wished to have a typewriter, which my great uncle's friend traded to him for this painting. And somehow it was traded to my great uncle where it was placed on a wall for a while till the wall was painted. This is how it ended up in the basement to be forgotten until I came upon it. Attached is some photos that I took earlier this morning. Enjoy
Here are Kyle's photos: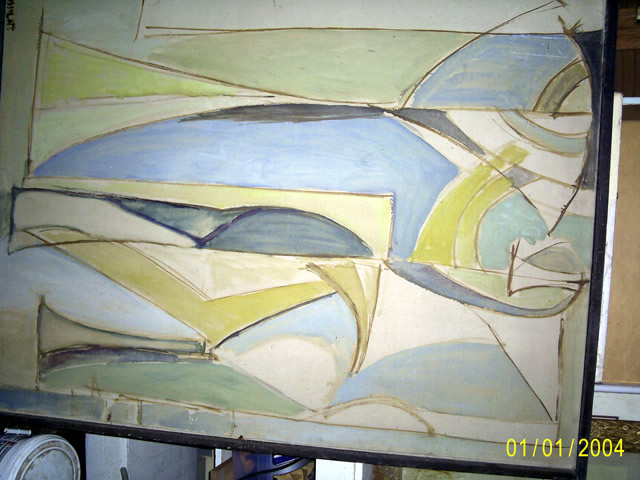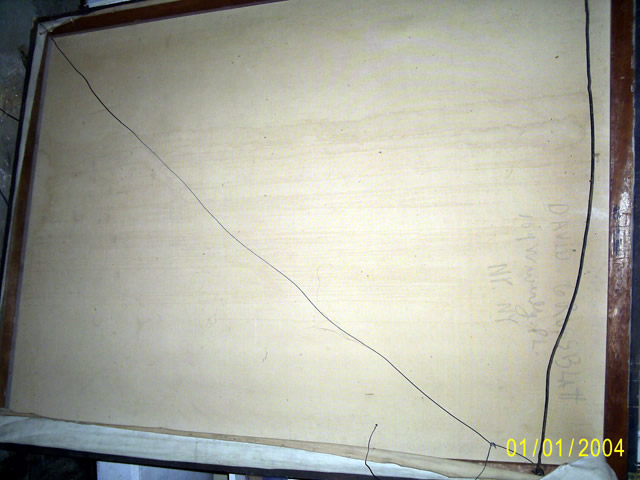 For those of you just coming in on this discussion, David Grossblatt was the co-owner of the Cafe Rienzi in Greenwich Village and he held quite an influence in the abstract-expressionist art movement. I have been posting tidbits of history about the Cafe Rienzi because my Aunt and Uncle helped to start it. I remember my Uncle Tom Durant taking me to his art studio one day and teaching me about abstract paintings. He let me try my hand at one - I was about 8 years old. Just from that little memory, and looking at the painting, I think David Grossblatt was a big influence at that time.
JuneBug
One of these days I'll get around to posting some of Uncle Tom's paintings.