There are 11,000 hits when you "google" the internet for information of the Cafe Rienzi on MacDougal Street in Greenwich Village, New York. It is mentioned in reminiscences and memoires of famous authors and poets and artists and musicians and even in the speech of a Nobel prize winner (
The Dream Machine-Nobel Speech mentions the Rienzi
). James Baldwin, Jack Kerouac, Bob Dylan and many, many more well known names crop up in connection with this cafe - as well as memories of many ordinary people who visted it and frequented it. It was a apparently a Mecca for these types of people in the 50's and 60's much like Paris was a Mecca for artists in decades and centuries preceeding.
What seems little known about the Cafe Rienzi is its beginnings - its roots. My aunt and uncle were two of the original group of friends who launched the Cafe Rienzi in the early 50's. I grew up hearing all those stories - the good times, the fights, and how one by one the original group sold their share and left. My aunt said she received $2000 for her share and spent two months or two years in Europe in grand style in London and Paris and Italy. She went over on the Queen Mary.
By now my aunt and uncle and the other folks who started the Cafe Rienze are quite elderly - in their 80's. But here I hope to start a thread of their memories of this historic and influential Cafe and piece of 20th Century American history. I have asked my aunt to write some of her memories about it, and she in turn has asked her friend Eva, and we will see if those are forthcoming - but for now, my feeble notes will have to do.
More to come as I get the time! My Aunt Joan and Uncle Tom Durant, two of the founders of the Cafe Rienzi, are pictured below.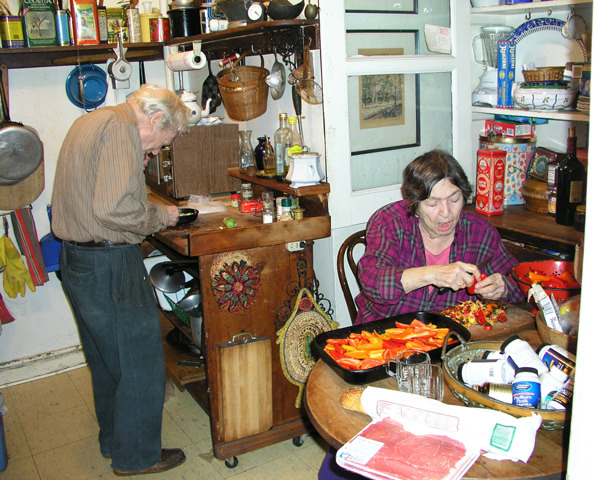 JuneBug